Tulsa Town Hall [TTH] is a nonprofit organization dedicated to opening minds and stirring curiosities. Since 1935, TTH has hosted speakers who are diverse and provocative, as well as experts in their fields. By providing the community an opportunity to interact with these speakers, TTH has both engaged and enlightened audiences for 85 years. Ranging from authors to explorers to international icons, our guests bring fresh perspectives on current topics. Come be a part of our vibrant, challenging and informative speaker series, and in the process rekindle your thirst for knowledge.
Started almost a century ago by a small group of Tulsa women, TTH has grown and evolved from humble beginnings in the Mayo Hotel to the grand Chapman Music Hall of the Tulsa Performing Arts Center. Celebrate the spectacular 85th season of Tulsa Town Hall and join us for our most exciting series yet!
Kathy Collins has been the Executive Director of Tulsa Town Hall since 2007, but this speakers' series has been enriching the cultural experiences of Tulsans since 1935. A small nonprofit with a staff of two and a dedicated Board, the mission of Tulsa Town Hall is to provide a dynamic speaker series in order to open minds, stir curiosities, and inspire imaginations.
Prior to this position, in addition to serving on the Tulsa Town Hall Board, Kathy was part owner and operator of McBirney Mansion Inn for nine years.
Her love of the arts called her to serve on the Mayfest Board and staff, as well as working in numerous areas in the Junior League of Tulsa. She has served on the Tulsa Schools Foundation at its inception and has been a mentor in the Tulsa Public Schools.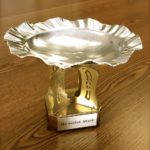 HARWELDEN AWARD 2017 RECIPIENT
Honoring organizations that have been exemplary advocates and supporters
of the arts and humanities in the Tulsa community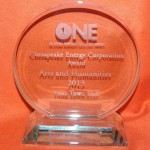 Oklahoma Center for Non-Profits awarded Tulsa Town Hall the 2013 ONE Award in the Arts & Humanities category